It's as if Ness brought these back to the Cave of the Past down with him!
Around the time of my old Onett textures, I mentioned fooling around with BrawlBox. These are some of the things that came out of that.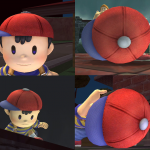 Basically it's Ness' normal hat, just really detailed. I know, I know… :U
But then there's this lovely thing, which I hope should be more interesting to you guys.