Archive for the 'libertyernie' Category
Page 2 of 4
Here's a very simple stage that takes place just in front of the Wuhu Island courtyard. (I'm also working on a custom stage from Lemmings, which will be posted in the next few days.)

Continue reading 'Untitled Wuhu Island stage'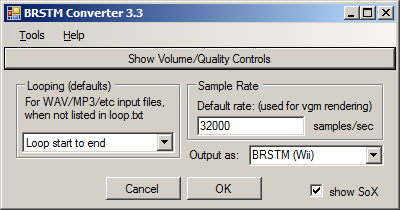 At its core, this program is made for making BRSTM files. But it does things that, to my knowledge, no other BRSTM conversion program has done yet. Most importantly, it lets you process many files at once.
Continue reading 'BRSTM Converter'
It appears to be a storage room for various instruments. Mysteriously, most of the instruments have been plundered from the room. Hung on the wall are portraits of some legendary jazz musicians. You regard them with awe.
Loud swing music and lively footsteps are heard from the room above.
Download: BrawlVault or direct from Mediafire
Contact me (via PM on KC:MM or Smashboards) if you want to edit the stage, because you'll want the original models before I used Mewtwo2000's Block Tool on them.
Also, if you could send me an MDL0 of a grand piano, that would be nice.
BSMC uses Java to convert .rel files on the fly and send them to your browser. It's now up at lakora.us/rel. Now you won't need to use the Stage Switcher application or find a Mediafire link for the original .rels.