We have a new member today!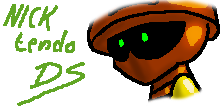 NICKtendo_DS is a very talented artist and a bottomless pit of good ideas and resourcefulness. He's as talented as Androu and as good as PZT when it comes to good ideas and creativity. Keep on the lookout for hacks made by this guy.
And now for your hack. Some call him Lucifer, some call him Satan, but I call him LUIGI. Said to be the lord of all evil by certain groups, and worshipped by a bunch of crazies, Satan is the greatest villain in roman and middle-eastern fiction religion. (I know I'm going to get a lot of hate for that remark). So cower mortal as the literary and religious equivalent of Giygas tortures the Brawl!