Remember me?
Yup, Anthony Higgs, remastered from his crappy first version, when I had only the trailer for references to make the Galactic Federation suit. Then more pics got released and I finally could redo this texture.
While it's not perfect, it has a lot of detail put into it. Some things like his backside and his straps have parts that I were going to change later, but didn't feel like redoing, and they don't make much of a difference. Anyway, it was a real pain to stream the texture across, sometimes, up to 7 different locations in his textures
Btw, this was going to also be a semi vertex hack, to remove his some of his buckles and pouches, move his holster and other pouches, and vertex a giant railgun out of his back… but my 64bit machine doesnt like me, and I couldnt do anything more than remove his headband strap.
And to make up for my lack of vertexing, today's winner will receive the gift of alternate faces: now available in all 6 food groups, Serious, Happy, Adam Malkovich, Galactic Federation Soldier (with mask on), Snake, and Samus (I'm SO sorry…).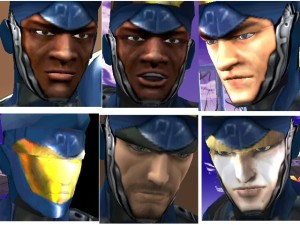 If you want any of the other GF troops, simply make Adam pale for Lyle, or draw a pedophile mustache on Adam for James Pierce.
Manthony:www.megaupload.com/?d=XWCB93F1
Happy Higgs:www.megaupload.com/?d=43ZIP1HS
Adam:www.megaupload.com/?d=MOJGQPVQ
Soldier:www.megaupload.com/?d=O0C5J907
Snake:www.megaupload.com/?d=NW45I40Y
Samus (CANNOT BE UNSEEN):www.megaupload.com/?d=F99OHIZO